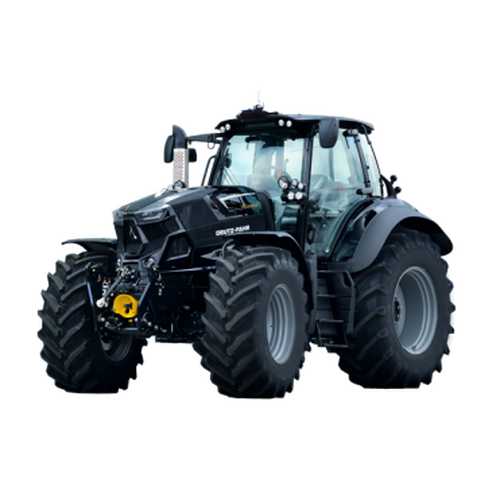 Max Power
246Hp / 183.4Kw
7250 TTV WARRIOR
LIMITED EDITION. UNLIMITED PERFORMANCE. The new 7250 TTV WARRIOR is a special limited-edition model for the toughest jobs on field and road. Its mission is maximum productivity – with a brilliant black finish that reflects brilliant bottom-line figures. This visually striking tractor delivers 246 hp (181 kW) and features a range of trademark German characteristics: Top quality, precision engineering and reliability are all standard equipment. As is the cutting-edge technology that drives down costs while protecting the environment. Innovative and intelligent tractor technology ensures that the 7250 TTV WARRIOR makes the right statement about your professionalism – while you enjoy the exceptional comfort of the MaxiVision 2 cab. Intuitive controls, precision farming systems, innovative axle and brake system concepts, and attachment points for the heaviest equipment combinations round off a truly special edition package. What makes him a WARRIOR is the brilliant black fi nish, WARRIOR lettering, WARRIOR LED lights package, WARRIOR comfort seat, automatic climate control, floor mat, double-glazed rear glass and LED lighting for external controls. No matter how tough the season gets, the 7250 TTV WARRIOR lets you get even tougher.
STAGE V SIX CYLINDER ENGINES: POWERED BY EFFICIENCY
The new 7 Series is equipped with a completely redesigned engine in terms of environmental impact and cost-effectiveness. The new Deutz 6.1 Stage V engine is more responsive, offers higher reserve torque and has a higher torque at lower rpms. At the same time, consumption of fuel and AdBlue has been reduced by 5 %, compared to the previous generation. The revised exhaust system features SCR after treatment and an additional, passive DPF (diesel particulate filter). DPF offers three advantages compared to the usual active filters: no fuel injection enters the filter, less heat is generated around the unit and the filter regenerates much more quickly. This saves fuel and money while conforming to all international emission standards. The efficiency of the engine is supported by Electronic Visco fan and the redesigned, compact and high-performance cooling system. The patented cooling system can be opened completely, which makes servicing much more straightforward. A pre-cleaning system on the air intake slots prevents dirt from entering the air filter, making a substantial difference to service costs. The Deutz 6.1 Stage V engine – modern technology made in Germany – is synonymous with the highest levels of know-how and efficiency, allowing you to achieve maximum productivity. WARRIOR exclusive extra: Exhaust with stainless steel trim.
read more
TTV TRANSMISSION. TURN POWER INTO TRACTION
The new 7 Series is fitted with state-of-the-art electronically controlled continuously variable TTV transmission technology. It is a solid concept that has been tried and tested over the years, now with new software for even better performance. DEUTZ-FAHR is the only manufacturer that offers a 60 Km/h tractor in such a compact design. All final speeds of 40 Km/h, 50 Km/h or 60 Km/h can be reached at a reduced engine speed, which is extremely fuel efficient. Overall, the speed range extends from 0.2 Km/h to 60 Km/h. For field work, the TTV transmission system operates most efficiently at all speeds. The highly comfortable TTV transmission is extremely efficient thanks to its four mechanical stages, which change automatically. Engine and transmission management are fully integrated, providing a comfortable automatic system for mechanical range shifting. Up to four cruise speeds can be stored in order to optimise work processes. A new trailer stretch mode increases driving safety on hilly terrain. Every single detail of the TTV transmission system has been designed to maximise the productivity of the 7 Series.
read more
WORKING WITH ALL IMPLEMENTS IN ANY SITUATION - UNPRECEDENTED HYDRAVLICS
PTO The productivity of a tractor depends directly on the equipment it can drive. The aim is to reduce the amount of distance travelled through increasingly large and heavy attachment combinations. This is where the 7 Series clearly demonstrates its strength. With three PTO speeds (540ECO/1000/1000ECO) at the rear and 1000 or 1000ECO at the front, all work can be carried out very efficiently. Thanks to the reduced engine speed characteristics, coupled with the ECO power take-off sysytems, fuel consumption is significantly reduced. All hydraulic and PTO functions can be easily set and controlled from the armrest in the cab. An external control of hydraulics, rear lift and PTO from both sides of the tractor is also possible. HYDRAVLICS Equipped for smooth docking. For the fast, secure and accurate docking of equipment, all 7250 TTV WARRIOR models can optionally be fitted with hydraulic top links and WALTERSCHEID lower links. And as many as seven electrical control devices, Power Beyond connections and an ISOBUS signal socket. Unprecedented hydraulics. The hydraulic system of the 7 Series has a 120 l/min load sensing pump (or with an optional 160 l/min pump) which feeds the main circuit, and a secondary 44 l/min pump dedicated to the hydrostatic steering system and the auxiliary circuits. The load sensing function continuously adjusts the hydraulic power delivered in relation to load, minimising power losses (and, as a result, fuel consumption), and maximising the durability of the hydraulic components. As standard, the system comes with four electronically controlled dual action rear distributors, while optional configurations allow up to seven rear distributors and an additional two dual action distributors at the front of the tractor. All distributors are controlled by a time and flow regulator and, if needed, may be converted into single action distributors. The new 7 Series is equipped with "push-pull" hydraulic unions, allowing connection and disconnection of hydraulic lines even when pressurised, and a dedicated container for gathering the small quantities of oil which may escape during coupling.
read more
ERGONOMIC OPERATION. MAXIMISING DRIVER'S COMFORT
The unique features offered by MaxiVision 2 cab can be seen inside and also from outside. When it comes to ease of use and ergonomics, the new 7 Series takes care of work for the driver to the extent permitted by current technology. The new InfoCentrePro on the dashboard features a 5" colour display, providing the driver with a stream of data about the tractor's operating conditions. It offers maximum convenience in terms of settings and information. In order to allow precise, stress-free work in all lighting conditions, the tractor can be fitted with an optional 40.000 lumen LED package with four working headlights. The interior is designed for the driver's comfort - reduced engine noise, vibrations and heat due to the cab and engine hood being separated. The new hood encapsulates the latest, highly contemporary look of the DEUTZ-FAHR tractor family, while its compact design also ensures outstanding forward visibility. The best possible view of rear attachments is guaranteed by the rearward position of the cab. Other features that reduce stress are the bright, welcoming colours of the interior, the large windows and a sunroof, available in three designs: an easy-to-open green roof, a glass roof with 84% UV radiation absorption and a FOPS safety version for optimal visibility during front loader operation. The air conditioning system – with automatic functions – provides the largest number of air outlet openings in this tractor class guaranteeing uniform air distribution like no other model. Every detail of the MaxiVision 2 cab has been designed to help the driver work for long periods without stress, thus achieving maximum productivity. The newly designed armrest makes the 7 Series even more relaxing and more intuitive to operate. All routine functions can be automated. Simply pre-select the desired basic settings and activate them at any time with a tap on the screen. The new, highly ergonomic joystick on the armrest controls everything from driving speed, direction of travel and cruise control selection to the ComfortTip system, lift controls and front lift controls. It is an intuitive system that requires no change of hand position and no more than a moments thought to operate. All of the controls are clearly marked with colours and are logically arranged according to their frequency of use. The driver has complete control over the new 7 Series at all times and can work for very long periods at a highly productive rate. WARRIOR Extras: WARRIOR roof LED lights as standard, WARRIOR front/rear cab LED lights optional; automatic climate control, WARRIOR comfort seat and black floor mat.
read more
Name:
Engine
Type
Cylinders/Displacement
Injection
Max Power
Max Torque
Fuel
Transmission & Axes
Transmission
Reverse system
Gearbox Ratio (front+back)
Max Speed
Hydravlics
Lift front/back (kg)
Pump (lt/min)
Valves-Ports
PTO
PTO Front (Lift - Speed)
PTO Speed (rpm)
Differential Lock Control PTO