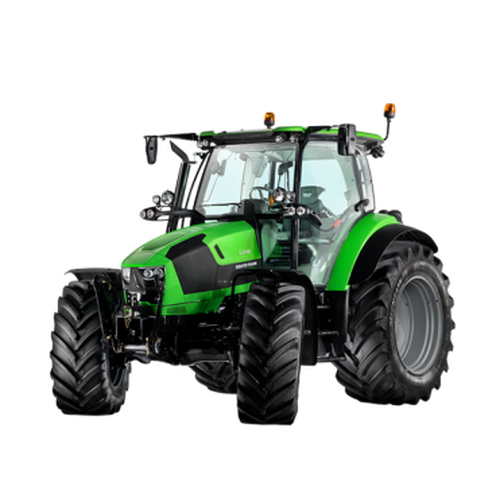 VERSATILITY WITHOUT LIMITS
The DEUTZ-FAHR 5 Series is a range of extremely versatile state-of-the-art machines offering astonishing versatility in terms of configuration. The 5100I5110I5120|5130 models employ innovative technology to cater for any application in all possible conditions. The perfect fusion of high performance mechanical and technical solutions, unparalleled comfort and ergonomics, and eye-catching style created in collaboration with Giugiaro Design, this tractor is a tour de force of power, functionality and elegance.
A state of the art engine. Compact and powerful.
The DEUTZ-FAHR 5 Series is powered by state of the art engines that deliver outstanding performance, reliability and durability. The Tier 4i compliant, 3620 cm³, four-cylinder DEUTZ TCD 3.6 L04 engine features turbo-intercooler forced induction and common rail fuel injection. Tier 4i compliance was achieved by adopting an EGR exhaust gas recirculation system in conjunction with a special DOC (Diesel Oxidation Catalyst) catalytic converter, which catalyses chemical reactions within the exhaust gases on contact to transform them into harmless substances. The technologically advanced DOC system differs from conventional FAP filters (which produce harmful exhaust back-pressures) and SCR (which needs additives such as AdBlue to trigger selective catalytic reduction) is the ideal solution as it does not require energy-costly regeneration cycles, maintenance-free and small enough for installation even on compact tractors. Another factor contributing to the extraordinary productivity of this series of tractors is a practically flat torque curve between 1200 and 1900 rpm, which ensures a torque reserve of over 30% throughout the range of engine speeds used in the majority of agricultural applications. At higher engine speeds, power remains constant within the band from 1800 to 2200 rpm, for progressive, smooth operation even during jobs with very high power demands. The electronic engine governor eliminates fuel wastage, by delivering only the power effectively needed for the job in hand.
read more
A modular, efficient transmission.
The transmission configuration of the DEUTZ-FAHR 5 series has been conceived from the outset for modularity. The base configuration, offered in 5100I5110I5120|5130 models, consists of a synchromesh five speed, two range mechanical gearbox with hydraulic Power Shuttle, for a total of ten forward and reverse speeds. This configuration may be extended to offer five gears and four ranges, for a total of twenty forward and reverse speeds and a minimum speed of just 162 m/h. Both solutions offer outstanding levels of efficiency. The Powershift, with three ratios selectable under drive, may also be added, to reduce the minimum working speed (in the four rage configuration) to just 134 m/h, and allowing the tractor to reach 40 km/h with the engine at economy speed. "P" versions are also equipped with APS (Automatic Powershift) as standard, which automatically selects the ideal Powershift ratio in relation to load and engine speed.
read more
Versatile, comprehensive choice of PTO solutions. Complete, innovative hydraulics.
PTO Having a choice of different PTO speeds contributes significantly to increasing the versatility of a tractor. The PTO of the 5 Series offers the four standard speeds (540/540ECO/1000/1000ECO) and is electrohydraulically engaged with an automatic load sensing function to ensure that the implement connected is always started progressively and smoothly. The PTO is simple and rational to operate, with electrohydraulic controls and an LCD display indicating the effective PTO speed, while the PTO start button is also replicated on the rear mudguards. An automatic PTO activation function is also available, to engage or disengage the PTO in relation to the position of the implement hitched to the rear 3-point linkage. A 1000 rpm front PTO (applicable with front lift) and a synchronised PTO with independent output shaft are also available as options. HYDRAVLICS The 5 Series is equipped with a simply outstanding hydraulic system that is extraordinarily modular and efficient. A number of different configurations are offered. The first consists of a single pump with a maximum displacement of 60 l/min and six distributors as standard (or up to eight as an option), with mechanical oil flow regulation. The second configuration ('ECO' option) uses a mechanically controlled dual pump (14 and 25 l/min) with flow regulator. The dual pump can already deliver maximum oil flow at very low engine speeds, for outstanding efficiency even during operations with high delivery demands but only partial engine loads. An alternative option uses an electrohydraulically controlled dual 90 l/min pump with flow regulator, timer function and Energy Saving system. All 5 Series models are equipped with "push-pull" hydraulic connectors, for trouble-free connection of hydraulic lines even when pressurised, and with a dedicated container for collecting any oil which may escape during coupling. The rear lift has an impressive capacity of 4650 kg, which may be further increased to 6600 kg with the addition of two external hydraulic rams. The EHR electronic control system enables draft force and position control, mixed control and float modes, by using a pair of load cells near the lower arms as draft sensors. A radar system (offered as one of the optional accessories) may be used to control slippage. This function is invaluable in maximising the efficiency of a tractor in very heavy duty traction applications. The EHR system also performs an number of other functions: quick soil engagement, oscillation damping for implements mounted on the 3-point linkage, position selectable transport lock, lift height limiter and rate of drop control. The optional front lift is offered with lift capacities up to 1850 kg.
read more
Style and unparalleled automation.
5 Series tractors are equipped with the extraordinary "E-Class" cab, a work environment that takes comfort and ergonomics to unparalleled new heights. Design in collaboration between the DEUTZ-FAHR engineers and Giugiaro Design, the cab features attractive, elegant looks, employs innovative materials and is, most importantly, extremely functional. The controls are logically organised for unparalleled user-friendliness. The dimensions of the cab are optimised for outstanding all-round visibility, while an extraordinary air conditioning system with ten vents maintains the perfect environment inside the cab. A lights control panel mounted on the A-pillar lets the driver control all the work lights and running lights installed on the tractor and on trailers and implements. To limit vibration, the cab may be mounted on optional mechanical suspension (with steel spring and hydraulic damper) or, in the case of "P" versions only, with sophisticated air-sprung suspension. All the controls are clearly identifiable and colour coded by function, for simple and intuitive operation of the tractor's functions. The optional Comfort-tip lets the driver store repetitive sequences of operations, which may then be recalled and executed automatically when needed. This function is particularly useful for headland manoeuvres. In "P" versions, the cab is equipped with the Work Display monitor, which keeps the driver informed of all the main operating parameters of the tractor, regarding: engine and transmission function; PTO and distributor management; lift and ASM control. In addition to this information, the Work Display also provides the driver with specific tractor performance information, such as consumption figures and productivity in terms of terrain area processed.
read more
Name:
Engine
Type
Cylinders/Displacement
Injection
Max Power
Max Torque
Fuel
Transmission & Axes
Transmission
Reverse system
Gearbox Ratio (front+back)
Max Speed
Hydravlics
Lift front/back (kg)
Pump (lt/min)
Valves-Ports
PTO
PTO Front (Lift - Speed)
PTO Speed (rpm)
Differential Lock Control PTO